| | The Act and Attitude of Adaptation |
| --- | --- |
Beau L'Amour:
Whether it is a L'Amour Movie or a L'Amour Audio or a Comic Book or a Play, there have been a lot of adaptations of Dad's work. Heck even Dad adapted Dad's work … he did it every time he turned a short story into a novel, sometimes with significant differences. Dad adapted other writer's movie scripts into "novelizations" like How the West was Won. He adapted Hondo from James Grant's screenplay that was based on his short story, The Gift of Cochise. He adapted High Lonesome from his own treatment which had already been made into the movie Four Guns to the Border. He did the same thing with The Shadow Riders. Following the DNA of some of these stories can be dizzying!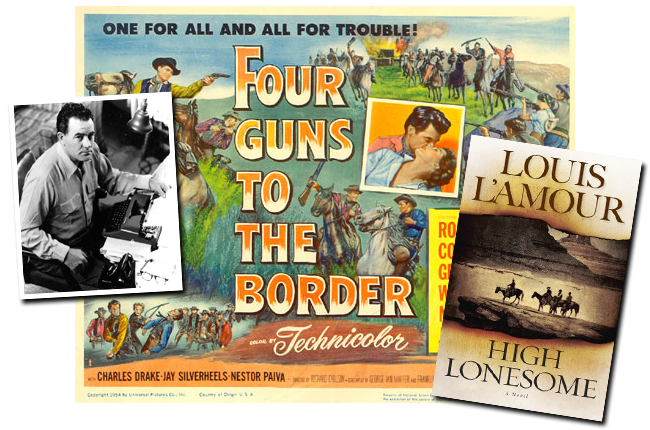 My experience doing adaptations started with the Dramatized Audios in the 1980s. It was an absolute requirement that our Audio Dramas be 60 minutes long … the publisher set that limit and there was no arguing with it. In Audio that is time for just about 17 to 22 scenes. Whether a Louis L'Amour short story was too short or too long we had to make it fill that time slot. A long story (or even a short one with a lot of plot) like, McQueen of the Tumbling K had to be condensed to fit and a really short short story, like The One for the Mojave Kid had to be lengthened, more plot added, scenes expanded.
The other requirement, placed upon me by my father, was to "improve the performances." The first Audio drama or two had been direct transcriptions of short stories that happened to be exactly the right length. But Louis was not happy with how the actors sounded … and Bantam knew that we would run out of those "right length" stories very quickly. So Dad grabbed me, the person in the household that supposedly knew about screenwriting, directing and the recording industry, to go figure it out.
Well, you can't have a good performance without a good script. Can not. And a good script is not a short story … without getting all technical, an actor can't play a scene from a book as well as he or she can play one designed, first and foremost, to be preformed. You need a script, written by someone who knows drama, Eventually, I did a couple of scripts to figure it out and we hired some screenwriters and playwrites, one was even an old friend of Dad's, and we finally got the program sorted out.
There was a Facebook question about the traditional, even melodramatic, style of the Bowdrie Audios vs. the dry revisionist style of Merrano of the Dry Country. This illustrates the next point very well. We have always been trying to emphasize the differences within Dad's work. Even Dad wanted people to see a difference between books like Kilkenny, which was a very old school shoot 'em up Western and Conagher which was more realistic, personal and lyrical. Different stories appeal to different people and different styles appeal to different people. None of us want the books to "all be the same." That's boring for fans and creators alike.
The Bowdrie Audios were intended to be classic old school Westerns by both Dad and our Audio production team. Merrano of the Dry Country was intended to be edgier, looking at racism and ecology, even when Louis wrote it in the 1940s. Back when I was doing a lot of Audio productions I fantasized about doing the Cactus Kid Audios as Musicals, with the Kid as a "singing cowboy." Every time I tried to write one that way … well, let's just put it this way, it was pretty bad!
With fewer and fewer new L'Amour works coming into the marketplace, the future is in adaptations of one sort or another. Some fans of literature rebel against that, thinking it is an 'offense to the masters' … but Louis obviously didn't mind.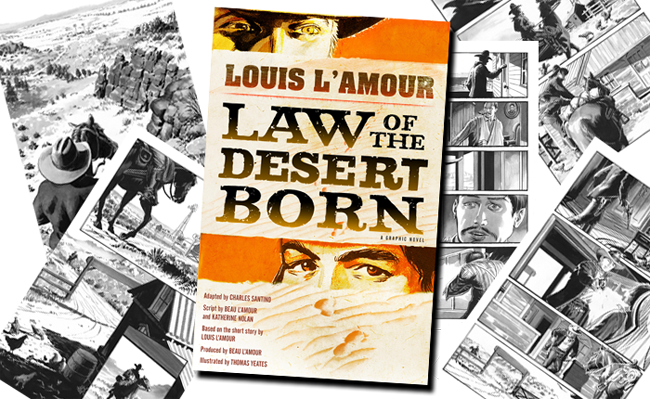 Visit the LawOfTheDesertBorn.com web site for more info!
The style of our Graphic Novel of Law of the Desert Born is, in my opinion, just one of many styles we can do. Not just styles for the art but styles of the story telling. I would like to do something much more traditional and close to an original Louis story (in fact we almost did but it was too long), I would also like to do something really outlandish and different from Louis's original work … like a newer, wilder, version Haunted Mesa. These different attempts don't replace the originals, they don't harm them. If a reader wants to just stick with the old material, they can … but, very soon, there's not going to be any more of it.