Sequels, Unfinished Works
and Other Writers
Let's start with "Last of the Breed" If you are a serious Louis L'Amour fan you probably realize that Louis often used to rush things when he got near the end of a story. Occasionally, he was so excited to start the next one that he sometimes gave short shrift to what he was finishing. Dad did not originally intend to write a sequel to "Last of the Breed." He considered the story to have come full circle … it starts with Colonel Zamatev receiving a particular package and it ends with him opening it and realizing what has happened. The warning implied by the package was enough for him – meaning Dad – to feel the story was over. It is clear that Louis intended for Zamatev to survive to the end of the story … the story is a flashback that starts with
him
.
As fans clamored for more, Louis began to consider writing a sequel. No details ever solidified other than he imagined it would be fun to have Joe and Zamatev both appear at some sort of arms reduction conference in Europe. In my opinion even that would have been problematic. Zamatev's fault is hubris … the story sets up other Soviets who want to see him brought down. He created an ambitious plan to capture Joe but Joe got away. I assume that he ended up in some radar station on the arctic circle with plenty of time to realize where he went wrong. That's the perfect punishment because it's the exact opposite of what he wanted in the beginning.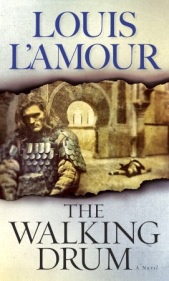 Two sequels were "planned" for "The Walking Drum." I put planned in quotes because Dad's plan was a single double spaced page. I have a project in the works where, if it truly seems like that is an interesting page when I go back and look at it again, I will make it available. Trust me, I'll only withhold it if it says something cryptic like "Kerbouchard … India … Girl." Sometimes Louis's notes were like that!
When Dad passed away he was working on a sequel to "Borden Chantry." It will probably be published in the above mentioned project which will be out in a couple of years. I say "probably" because I am still deciding whether to bring it out or not. Louis was undergoing chemotherapy at the time he wrote it. It is clear to me that the discomfort was keeping him from concentrating and so the work is not his best. It's a bit sad and I try not to present Dad in that light. At the same time it is the last thing he wrote. At the moment my plan is to publish it but include an explanation of the circumstances … I want people to appreciate his intentions for the story without being thrown by the quality of the writing.
Over the years there have been rumors of L'Amour novels that are supposedly coming out, secret books by other publishers and other such mythic beasts. We do have some books headed your way in the future and the Louis L'Amour Facebook page or the louislamour.com website are good places to find out about them. Other publishers do occasionally release a few L'Amour titles … but that same material is all available from Random House, the last title, "Sitka," will be brought into the fold very soon. If you buy the Random House/Bantam editions you will have them all.
There has been some speculation on this Facebook page as well as other places about "Louis L'Amour" books that have been written by other people. Here is the definitive answer:
No one has ever written a new novel
"as" Louis L'Amour.
The only person who has ever gone inside an existing Louis story and significantly meddled with it is me.
The first time I did this was with Dad's permission. I did some work on " Haunted Mesa" … today, I wish I had done more. It could be a tighter book. Obviously, Dad thought so or he never would have let me touch it. Since his death I have done editing and bits of rewriting on many of the books that have come out. I created a very strict code where I would work to improve the stories by cutting first and then only rewriting if I had cut so much that the pieces didn't match up. I got very good at channeling Dad … 99% of the time even I can no longer find the exact place where I inserted material. There is only one style of Dad's I can not do, the "flowery" sort of prose that he used for some of his later novels.
These were mostly minor fixes but the sum total of the editing and rewriting added up to getting some of Louis's very best work on the market … it was very often that I would do more work on a really good story, to make it live up to its potential, than to a lesser one. My favorites of that sort are "Cap-Rock Rancher" and "Elisha Comes to Red Horse" but there were plenty of others.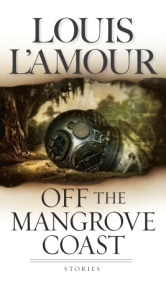 There is only one place where I took over a story and really did a lot of work to it. That was "The Diamond of Jeru," published in "Off the Mangrove Coast." That short story collection was looking like it was going to be way too short. And Louis's original short story was so substandard in quality that I was considering not publishing it. The answer to both problems was to take all the things I liked about it and play them up, turning a 20 page short story into an 80 page novella. It was a lot of fun … but I also decided that if I ever did anything like that again I would "credit it" in the names of Louis and Beau L'Amour so that everyone would know what was going on.
Whenever I went in and made changes in one of Louis's manuscripts I would try to add details that came from Louis's life. A good example is in "Fighters Should be Hungry." Louis lived in Portland, Oregon for awhile. He trained in the gym that was under Wiley Spivey's Poolroom. Although Louis set the story in Portland and Astoria he did not mention Spivey's. The mention and description of the place were details I added to the story from my knowledge of Louis's life. If I'm writing as Louis L'Amour and if I take things out or change them I try to do it in a manner that is as much like Louis might have done as possible even to the point of using his own experiences.
Louis left hundreds of unfinished stories. With a couple of exceptions, I am not going to finish them. We will be publishing a project in the future that will include many of these and in that I will try to put all the projects and as much as I know of what Louis had planned in context. As I mentioned above, I have already finished, fixed, edited, many of Dad's stories. I only do this when the trajectory of the story is clear to me, to do anything else takes it away from being "his." If I know I have a fighting chance of doing it like he would do it then I'll give it a go.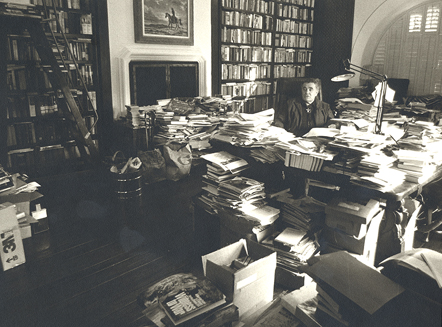 Louis at his desk surrounded by notes, rough drafts, magazines, etc.
I think, however, that the really fun part of the unfinished stories is the mystery! I like thinking about what they might have been without having to know. As I said, I may work on a few but if I do I will share the billing so there is no question as to what we are up to. Beyond that we have no plans to have any other writer work on any L'Amour material. That conviction may change given the right opportunity but, at this moment, I can not imagine what that would be.