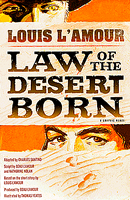 Law of the Desert Born - A Graphic Novel
Your Price: $19.95
Hardcover
(Usually ships within 24 hours)
New Mexico, 1887, a land in the midst of the worst drought anyone can remember. Family histories and loyalties run deep, but when rancher Tom Forrester has his access to the Pecos River cut off by the son of his old partner, he convinces his foreman, Shad Marone, to pay Jud Bowman back for the discourtesy. Yet what starts as a simple act of petty revenge quickly spirals into a cycle of violence that no one can control.
Now Marone is on the run, pursued by a sheriff's posse across a rugged desert landscape. Leading the chase is Jesus Lopez, a half-Mexican, half-Apache with a personal stake in bringing Shad to justice. Newly released from jail, trusted by no one, Lopez swears he's the only man who can track Marone down. That may be true. But who will live and who will die and what price will be paid in suffering are open questions. Fate and the Jornada del Muerto desert possess a harsh justice that is all their own.
With a propulsive script from Beau L'Amour and Kathy Nolan, adapted by Charles Santino and illustrated in bold black-and-white by Thomas Yeates, Law of the Desert Born captures the dust and blood of Louis L'Amour's West—a world where the difference between a hero and a villain can be as wide as the gap between an act of kindness or brutality or as narrow as a misspoken word.
Reviews
---
---

---
THE REVIEWS ARE IN! Read them HERE
---
Louis wrote novels and short stories in several different series.
For information on his Sackett novels and short stories go to... http://www.louislamour.com/sackett/index.htm
For information on the Hopalong Cassedy novels go to... http://www.louislamour.com/novels/hopalong4byLouis.htm
For information on the Kilkenny Novels and short stories go to... http://www.louislamour.com/novels/kilkenny_stories.htm
---
CHECK LISTS!
Please note the lists below are for customer reference only and do not link to the sales portion of this website
Click HERE for a web page with check boxes that can be printed as a checklist.
Click HERE for a plain text page of all the titles.
Click HERE for a chronological listing of the books by publication date.
Click HERE for a list of titles by Category (Novels - Short Story Collection, etc)
---
LARGE PRINT TITLES | HARDCOVER TITLES
---

---