By all means please feel free to contact us directly but before you do, if you have a question, please make sure you have checked the Frequently Asked Questions page


By far the BEST
way to reach us!
For Customer Service and questions about your Louis L'Amour Trading Post orders placed here at LouisLAmour.com (For information on the brown Leatherette Hardcover Collection orders, see the Louis L'Amour Leatherette Collection section below!) please send a message to: custserv@louislamour.com
For web site admin, orders and Internet business stuff
contact Paul J. O'Dell paul@louislamour.com
For Louis questions, film & book industry stuff
contact Beau L'Amour beau@louislamour.com
NOTE: Please pick the appropriate address above and only send your message to ONE e-mail address. I can't tell you how many times Beau and I answer the same question because we both get hit with the same e-mail.

We welcome your correspondence and orders via US Mail at:
Louis L'Amour Trading Post
4445 356th Drive SE
Fall City, WA 98024

TRY OUT THIS NEW-FANGLED TELEPHONE DEVICE AND ACTUALLY TALK TO SOMEONE:
For Trading Post ORDERS ONLY please call toll free:
1-800-532-9610
For web-site and Trading Post Customer Service, Technical Support and all other questions, please call or FAX:
1-425-392-5023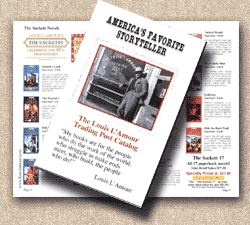 To request a FREE catalog, send your name and address via US Mail to:
Louis L'Amour Trading Post
4445 356th Drive SE
Fall City, WA 98024
THE LOUIS L'AMOUR LEATHERETTE COLLECTION
For questions about the Leatherette hardcover collection of Louis L'Amour books (NOTE: This Collection is managed by a completely different company and we do not have access to their data or inventory information!) please call their Toll Free Phone Number:
1-888-859-8050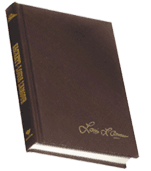 Contact the Louis L'Amour Collection via E-Mail at: louislamourcollection@randomhouse.com
Or click HERE to be transported to their web site for more information.