"My friend," he said, "I do not know what else I shall leave my son, but if I have left him a love of language, of literature, a taste for Homer, for the poets, the people who have told our story - and by 'our' I mean the story of mankind - then he will have legacy enough." . . . The Lonesome Gods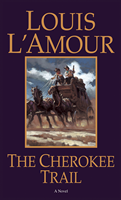 The Cherokee Trail - It was no work for a woman. That's what they told Mary Breydon when she came to manage a rundown stagecoach station on the Cherokee Trail. But Mary had no choice. Her fine Virginia home burned to ashes in the Civil War and her husband was brutally shot down on the way to Colorado. She needed to make a new beginning for herself and her young daughter on the raw frontier. Isolated in an untamed land, their life at the station was achingly hard and they faced the constant danger of attacks by outlaws and marauding Indians. Yet, with the support of a spirited Irish woman, a fearless orphan boy, and, most of all, the mysterious gunman Temple Boone, Mary found the courage to shape her station into a vital stop on America's westward journey. Until the vicious murderer whose bloody rampages had stained her past suddenly stalked Mary Breydon to Cherokee Station.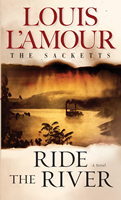 Ride the River - No matter that Echo Sackett was young, and a woman, and had never been far from the valley. She was still a Sackett -- sharp and smart and a better hunter than most of the men she knew. Like her bold ancestors, Echo couldn't ignore a challenge. A sure hand with a horse, a dead shot with a rifle, and fast with her wits, Echo traveled to the mountains of Tennessee, coming up against ruthless killers who's stop at nothing to cheat her out of her inheritance. There she'd prove once and for all that she could ride the river with the best.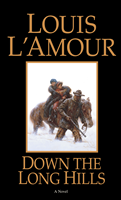 Down the Long Hills - After the massacre Hardy and Betty Sue were left with only a horse and a knife with which to face the long battle against the wilderness. A seven-year-old boy and a three-year-old girl, stranded on the limitless prairie. They were up against starvation, marauding Indians, savage outlaws, and wild animals. They were mighty stubborn, but the odds were against them--and their luck was about to run out.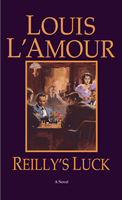 Reilly's Luck - Val Darrant was four years old. It was a cold, snowy night as he was hustled away on a buckboard to be abandoned. But he did not die; he met Will Reilly. A gentleman, a gambler, and the best rifle shot in the West. Reilly was a man who knew the odds and played them. But what were the odds on taking in a frightened young boy?
Cap Rock Rancher (from the short story collection End of the Drive)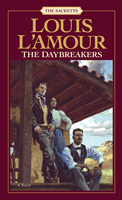 The Daybreakers - Tyrel Sackett was born to trouble, but vowed to justice. After having to kill a man in Tennessee, he hit the trail west with his brother Orrin. Those were the years when decent men and women lived in fear of Indians, rustlers, and killers, but the Sackett brothers worked to make the West a place where people could raise their children in peace. Orrin brought law and order from Santa Fe to Montana, and his brother Tye backed him up every step of the way. Till the day the job was done, Tye Sackett was the fastest gun alive.
War Party (from the short story collection War Party)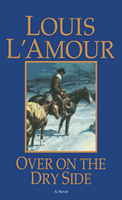 Over on the Dry Side - Chantry came home to a murdered brother and a couple of squatters. Then the Mowatt gang moved in. They were looking for his brother's buried treasure. Chantry was going to lead them to it. Or else.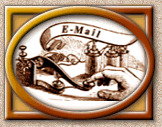 If you have questions, ideas or responces to the materials above, please E-mail us and include your phone number and other contact information so that we can route your request to the right person for a quick response.