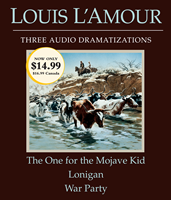 The One for the Mojave Kid, Lonigan & War Party
Your Price: $14.99
Audio Drama
(Usually ships within 24 hours)
Dramatization
Three CDs, 3 hours
This collection includes:

The One for the Mojave Kid
Few men were as deadly–or troublesome–with a gun as the Mohave Kid. Ab Kale, marshal of Hinkley, had warned the Kid to stay away from his town. Even as he trained his own adopted son, Riley, to handle a gun, he worried for both of them. He knew the Kid was the bloodthirsty sort who would one day force a showdown. But he couldn't know when…or prepare Riley for the test of his young life.



Lonigan
Ruth Gurney arrived home to find her late father's cattle ranch in debt, and their trail-boss, Lonigan, missing. As luck would have it, there is a conveniently available replacement–Hoey Ives. The ranch hands are uneasy with Ives's place on the drive, but the money is desperately needed and there's no time to wait for Lonigan. After days on the trail with no sign of water, weak cattle, and restless men, Ruth can't help but have second thoughts about the seemingly trustworthy Ives. When he suddenly proposes and asks for more than her hand in marriage, Ruth knows she has to find out what he's really up to–and fast.



War Party
Bud Miles was a boy when he crossed the Mississippi. But Bud buried his father after an Indian attack, and as the wagon train pushed on through Sioux country, the boy stood as tall as any man ... Tell Sackett killed cougars at fourteen and fought a war at fifteen. Now Tell was hauling dangerous freight--a soldier's wife and a fortune in gold--knowing that someone wanted him dead ... Laurie Bonnet was a mail-order bride who thought she was a failure on the frontier. But when the chips were down, she was the only one who could save her husband's life ... In these marvelous stories of the West, Louis L'Amour tells of travelers, gunfighters, homesteaders, and adventurers: men and women making hard and sudden choices and fighting battles that could cut a person's life short--or open up a bold new future on the American frontier.

Reviews
---