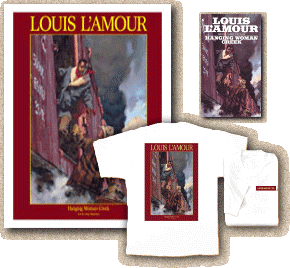 Hanging Woman Creek Gift Set
Your Price: $42.95
T-Shirt, Art Print, & Novel
(Usually ships within 24 hours)
3 Great Items for 1 Great Price
This gift set includes the exclusive Cover Art Print and the Cover Art Tee-Shirt PLUS the Paperback Book!
Hop a freight to the Old West and ride the rails to adventure!
Click HERE to see closeup of the art.
Cover Art Print (retail value $34.95) - The latest cover art from the novel, Hanging Woman Creek, is vividly recreated in perfect detail on this 22" X 34" art print. Painstakingly reproduced to recreate the look and feel of the original cover art painting by award winning artist Greg manchess, this high quality art print is suitable for framing or can be displayed as is.
Cover Art Tee-Shirt (retail value $21.95) - The latest cover art from the novel Hanging Woman Creek is vividly recreated in perfect detail on our highest quality 100% cotton, heavyweight, T-Shirt using a photographic transfer process. These durable, pre-shrunk tees are made to last and are the perfect addition to every wardrobe!
Hanging Woman Creek Novel (retail value $4.50) - Barnabus Pike is no gunfighter and not much of a street fighter. Eddie Holt is a black boxer in a white man's world. They've both taken their share of hard knocks. Now they're looking to survive a brutal winter in a remote Montana line shack, collect their pay, and settle down for good. Then they cross paths with a hardworking Irish immigrant and his beautiful, spirited sister, who've been burned off their land. It's a fight Pike and Holt don't want, don't need, and don't dare turn their backs on--especially when one of the perpetrators might be one of Pike's old friends. Hunted like animals across the frozen countryside, Pike and Holt will risk everything--including their reputations, their dreams -- and their lives.
Total Retail Value: $61.40
Specially Priced at: $42.95
Reviews
---