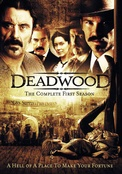 Deadwood - The Complete 1st Season
Your Price: $99.98
TV Series
(Usually ships within 24 hours)
NOT RATED WARNING!! Not for children - Contains extremely bad language, nudity, violence, etc. OVER 18 ONLY!
---
BEAU'S NOTES: I love Deadwood but it is NOT for everybody. If you took out the foul language and sex (but not the wonderful, nearly Shakespearean, use of the English language) this show alone would be interesting enough to revive the western. In the words of Quentin Tarentino, it may be "a little more than you wanted to know," but it is alive in ways that repetitive "old style" westerns are not and presents some of the finest writing and acting ever to appear on television.
---
NOTE: Because of the extremely foul language used throughout this show, Beau and I discussed whether or not we should offer this title. Obviously we decided that we should include it for its excellent production value and characterizations. This is the dark side of the new Western!
.... Paul J. O'Dell
---
The town of Deadwood, South Dakota in the weeks following the Custer massacre is a lawless sinkhole of crime and corruption. Into this uncivilized outpost ride a disillusioned and bitter ex-lawman, Wild Bill Hickok, and Seth Bullock, a man hoping to find a new start for himself. Both men find themselves quickly on opposite sides of the legal and moral fence from Al Swearengen, saloon owner, hotel operator, and incipient boss of Deadwood. The lives of these three intertwine with many others, the high-minded and the low-lifes who populate Deadwood in 1876.
STARRING: Timothy Olyphant, Ian McShane, Molly Parker, Jim Beaver, Brad Dourif, John Hawkes, Paula Malcomson, Leon Rippy, William Sanderson, Robin Weigert, W. Earl Brown, Dayton Callie
DIRECTED BY: Various
Run Time: 720 minutes
US Theatrical Release Date: March 21, 2004
Region 1 (U.S. and Canada only. This DVD will probably NOT be viewable in other countries.
Reviews
---