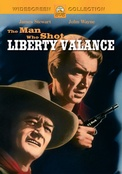 The Man Who Shot Liberty Valance
Your Price: $12.99
Movie
(Usually ships within 24 hours)
NOT RATED
---
BEAU'S NOTES: Three great examples of John Wayne playing different shades of an Anti Hero. In The Searchers he plays a homicidal racist (this while Clint Eastwood was still in short pants), in Red River he's the heavy, and in Liberty Valence he plays a second or third tier role just to support Jimmy Stewart ... Wayne had MUCH more courage in his choice of roles and pushed the boundaries of his art much farther than he is ever given credit for.
---
Together For The First Time - James Stewart - John Wayne - in the masterpiece of four-time Academy Award winner John Ford
Senator Ranse Stoddard returns to the city Shinbone in the Wild West to go to the funeral of his friend, Tom Doniphon. To a journalist, who's wondering what the Senator is doing in Shinbone, he tells how his career started as "the man who shot Liberty Valance". As a lawyer he went to Shinbone, where he met his wife Hallie and Tom Doniphon. He taught the people there to read and write. Then he met the greatest bandit of the region, Liberty Valance....
STARRING: James Stewart, John Wayne, Vera Miles, Lee Marvin, Edmond O'Brien, Andy Devine, Woody Strode, Jeanette Nolan, Ken Murray, John Qualen, Strother Martin, Lee Van Cleef, John Carradine
DIRECTED BY: John Ford
Approxomate Running Time: 122 Minutes
DVD Release Date: June 5, 2001
U.S. and Canada only. This DVD will probably NOT be viewable in other countries.
Reviews
---