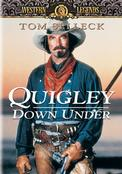 Quigley Down Under
Your Price: $14.94
Movie
(Usually ships within 24 hours)
Rated PG-13; Contains brief nudity, violence
Sharpshooter Matt Quigley (Selleck) is hired from America by an Australian rancher so he can shoot aborigines at a distance. Quigley takes exception to this and leaves. The rancher tries to kill him for refusing, and Quigley escapes into the brush with a woman he rescued from some of the rancher's men, and are helped by aborigines. Quigley returns the help, before going on to destroy all his enemies.
STARRING: Tom Selleck, Laura San Giacomo, Alan Rickman, Chris Haywood, Ron Haddrick, Tony Bonner, Jerome Ehlers, Conor McDermottroe, Roger Ward, Ben Mendelsohn
DIRECTED BY: Simon Wincer
Approxomate Running Time: 123 Minutes
U.S. and Canada only. This DVD will probably NOT be viewable in other countries.
DVD Release Date: September 4, 2001
Reviews
---