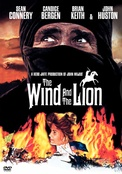 The Wind and the Lion
Your Price: $12.97
Movie
(Usually ships within 24 hours)
NOT RATED
---
BEAU'S NOTES: Was this one of Louis L'Amour's favorite films? Yes. Does that matter? No. This is simply the best movie ever made. It has everything, incredible adventure, a political allegory of shocking timeliness, a SIZZLING romance between two people who don't ever really touch each other, amazing visuals, a fantastic script, great performances ... and it's drop dead funny. Not a comedy, but a good hard laugh every few minutes. I can't say enough about it; an absolute must see!
---
An American woman and her children are kidnapped by a Berber/Arab chieftan for political reasons involving the Sultan of Morocco. United States President Teddy Roosevelt and his "big stick" diplomacy get involved. Meanwhile, the captor and captive, while they may not actually bring it to any kind of physical relationship, fall in love, and the Rizuli ends up being her saviour rather than her kidnapper, and a truly honorable person.
STARRING: Sean Connery, Candice Bergen, Brian Keith, John Huston, Geoffrey Lewis, Steve Kanaly, Vladek Sheybal, Nadim Sawalha, Roy Jenson
DIRECTED BY: John Milius
Approxomate Running Time: 119 Minutes
U.S. and Canada only. This DVD will probably NOT be viewable in other countries.
DVD Release Date: January 6, 2003
Reviews
---