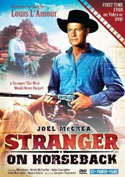 Stranger on Horseback
Your Price: $14.99
Movie
(Usually ships within 24 hours)
STARRING: Joel McCrea & Miroslava Stern
DIRECTED BY: Jacques Tourneur
PRODUCED BY: Robert Goldstein
Joel McCrea brings law and order to the range in Stranger on Horseback . McCrea portrays a circuit judge Richard Thorne, who comes to a small western town in the course of making his rounds. There he finds the town and surrounding area under the feudal thumb of an oldline family headed by Josiah Bannerman (John McIntire). Despite wholehearted opposition and obstacles, Thorne fingers Bannerman s spoiled son, Tom (Kevin McCarthy) for murder and smokes out the necessary frightened witnesses and defies the whole clan by seeing that justice is done. In doing so he even wins the grudging respect of the old cattle baron, gains the love of the latter s strong-willed niece, Amy (Miroslava Stern), and awakens the sheriff (Emile Meyer) to a new sense of duty.
Bonus Features: Scene Selection, Trailers, Radio Hour: Radio Shows: Tales of Texas Rangers, Audio biographies by Joel Blumberg, Original Theatrical Trailer, Adlets: Lonesome Trail DF, Tall Texan, Western Noir DF, Great Jesse James Raid & Other Legendary Outlaws
Cast overview, first billed only:
Joel McCrea
....
Judge Richard 'Rick' Thorne
Miroslava Stern
....
Amy Lee Bannerman (as Miroslava)
Kevin McCarthy
Tom Bannerman
John McIntire
Josiah Bannerman
John Carradine
....
Col. Buck Streeter
Nancy Gates
Caroline Webb
Emile Meyer
Sheriff Nat Bell
Robert Cornthwaite
Arnold Hammer
Jaclynne Greene
Paula Morrison (as Jacklyn Breen)
Walter Baldwin
Vince Webb
Emmett Lynn
Barfly
Roy Roberts
Sam Kettering
George Keymas
Bannerman's Henchman
Approxomate Running Time:
1 hour 06 minutes
Color 1955
The original negative for Stranger on Horseback no longer exists, so VCI's release was taken from a 35mm print held by the British Film Institute. It's not perfect, but it looks surprisingly good, especially for an Anscocolor movie, and there are only a few splices in the print.
Reviews
---