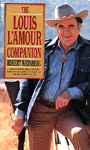 The Louis L'Amour Companion (By Robert Weinberg)
Your Price: $5.99
Paperback
(Usually ships within 24 hours)
The Louis L'Amour Companion chronicles the extraordinary life and career of America's favorite storyteller, from his early days as a pulp fiction writer to his well-earned place as one of history's bestselling authors.
Biographical sketches, rare out-of-print articles and interviews, previously unpublished correspondence, and personal recollections and reviews by fellow writers such as Harlan Ellison, Ed Gorman, and Judith Tarr reveal as never before the larger-than-life story of the real man behind the legnedary fiction. Inside you'll find a treasure trove of information unavailable in any other single source, including:
A chronology of L'Amour's novels and short stories, including synopses, publication dates, and histories
A listing of rare, still uncollected (as of the 1992 publication date of this book) L'Amour stories
A checklist of L'Amour novels and stories adapted to film, television and audiotape (again as of the 1992 publication date)
Rare photos of Louis, memories, memorabilia and much more . . .
For both collectors and fans fo Louis L'Amour's great fiction, The Louis L'Amour Companion is the next best thing to sitting beside the campfire with your favorite storyteller.
Historical Releases



Reviews
---