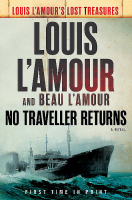 No Traveller Returns - A NEW Louis L'Amour Lost Treasures Novel
Your Price: $23.80
Hardcover
(Usually ships within 24 hours)
Louis L'Amour's long-lost first novel, faithfully completed by his son, takes readers on a voyage into danger and violence on the high seas.
Fate is a ship.

As the shadows of World War II gather, the SS Lichenfield is westbound across the Pacific carrying eighty thousand barrels of highly explosive naphtha. The cargo alone makes the journey perilous, with the entire crew aware that one careless moment could lead to disaster.
But yet another sort of peril haunts the Lichenfield. Even beyond their day-to-day existence, the lives of the crew are mysteriously intertwined. Though each has his own history, dreams and jealousies, longing and rage, all are connected by a deadly web of chance and circumstance.
Some are desperately fleeing the past; others chase an unknown destiny. A few are driven by the desire for adventure, while their shipmates cling to the Lichenfield as their only true home. In their hearts, these men, as well as the women and children they have left behind, carry the seeds of salvation or destruction. And all of them—kind or cruel, strong or broken—are bound to the fate of the vessel that carries them toward an ever-darkening horizon.
Inspired by Louis L'Amour's own experiences as a merchant seaman, No Traveller Returns is a revelatory work by a world-renowned author—and a brilliant illustration of a writer discovering his literary voice.
A brief content advisory from Beau L'Amour . . .
I'm sure that there will be some discussion of the language, morality, politics and philosophy found in "No Traveller Returns." These are somewhat different from what is regularly found in many of Louis L'Amour's Westerns. I, specifically, have not significantly added to nor subtracted from any of the qualities mentioned above. They reflect Dad's interests and style prior to his approach having been molded by a couple of decades writing in the more moralistic Western genre. He loved the stories of Arizona and Colorado, the wide open prairies and the far blue mountains but his real life also played itself out in remote parts of the Indies and the Middle East, the bustle of New York and Shanghai, on the waterfronts of Liverpool and San Pedro. Those were different worlds with different rules. All in all, Louis was much more of a man-of-the-world than the Western genre would often allow.
Reviews
---