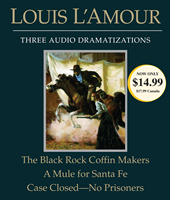 The Black Rock Coffin Makers, A Mule for Santa Fe & Case Closed - No Prisoners

Play Excerpt
Your Price: $14.99
Audio Drama
(Usually ships within 24 hours)
Dramatization
Three CDs, 3 hours
This collection includes:

The Black Rock Coffin Makers
Cattleman Jim Gatlin isn't the kind of man who goes looking for a fight. But he never turns away when one comes looking for him. And that's just what happens when he finds himself mistaken for another man - a man who has some very dangerous enemies.
Like it or not, Gatlin is a dead ringer for the only man in town who stands between the ruthless Wing Carey and the ownership of the XY Ranch. Framed for murder, Gatlin suddenly finds himself the town's most wanted man. Now he must clear his name and help a pretty young woman by putting his own bid on the XY.



A Mule for Santa Fe
Scott Miles and his son Billy are on their way to a new life in New Mexico, but fate deals them a bad hand in the deceptive currents of the Missouri River. When their wagon is nearly destroyed and one of their mules killed, Scott and Billy have almost certainly lost their chances of joining the last wagon train heading out before winter closes in. But Scott wasn't counting on a miracle - in the form of a strong-willed woman and the unwavering faith of a young boy.

Case Closed — No Prisoners
Ride with legendary Texas Ranger Chick Bowdrie as he helps out a small town with a big problem. Someone has brutally murdered the local banker and made off with forty thousand dollars–and it appears to be the work of a criminal who knows his way around town.

Reviews
---