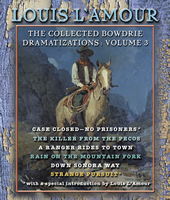 The Collected Bowdrie Dramatizations: Volume 3
Your Price: $29.95
Audio Drama
(Usually ships within 24 hours)
Follow Chick Bowdrie's adventures in these six classic westerns by America's favorite storyteller, Louis L'Amour.

Chick Bowdrie could have been an outlaw, but he rode a different trail. The Texas Rangers recruited Bowdrie to help pursue the most wanted men in the Southwest. And Bowdrie knew the terrain all too well: the dusty trails, bitter cattle feuds, the desperate killers, and the weather-beaten towns that could explode into chaos at the wrong word. The Rangers were called in to handle the tough cases, and Bowdrie was the toughest and smartest. He had vowed to seek out justice, but there were times when justice required fists and guns….
Case Closed - No Prisoners
Ride with legendary Texas Ranger Chick Bowdrie as he helps out a small town with a big problem. Someone has brutally murdered the local banker and made off with forty thousand dollars -- and it appears to be the work of someone who knows his way around town.

The Killer From the Pecos
Death is no stranger to Almagre, a rough boomtown in which the local cemetery, Boot Hill, is almost as crowded as the saloons. Almagre had sprung up in just under two years with a silver strike, and in that short time, it had buried three town marshals.
Into this wild and bloody town rides Texas Ranger Chick Bowdrie, trailing a Pecos bank robber who left two men dead. All Bowdrie has to go on is an unconvincing eyewitness description, a name scrawled on a tattered post card...and his own skills as a master tracker. But it's his skill with a gun Bowdrie will need when he looks for answers in Almagre. For the town is gripped in a stranglehold by a ruthless cattle baron named Bonelli. To bring his quarry back, Bowdrie will pin on the marshal's star to face down Bonelli and his gunmen--in a town where a badge is a death warrant.
A Ranger Rides to Town
Texas Ranger Chick Bowdrie is a good man to have on your side and a bad man to have on your trail. When an anonymous note alerts him to an impending bank robbery, he rides into a blazing gun battle. Minutes later, one robber lies wounded, and two others lie dead in the street. Inside the bank, two more are found dead, including the banker–but not by Bowdrie's hand. It looks like there was a fifth man involved, who committed cold-blooded murder, then arranged for the Texas Ranger to dispense with the rest of his gang. But the cunning outlaw's quick getaway won't get him far enough–not with Chick Bowdrie breathing down his neck.

Rain on the Mountain Fork
The stagecoach axle had broken, and the road was washed out by a landside. It was the travelers' luck to find warm shelter in an isolated sod shanty on the mountainside while rain teemed down and thunder crashed around them. But Lew Judd is nervous as he plays cards with a fellow traveler, the stage driver, and two of the three men who were in the cabin when they arrived. A quiet man in rough company, Judd is an Easterner headed for a new life in Santa Fe with his lovely yound niece, Nelly. He worries about her safety — and about the hidden money belt that holds his life's savings.
Down Sonora Way
Chick Bowdrie and Tensleep Mooney, a tough, wily, Wyoming cowhand, are locked in a stalemate with nothing between them but sixty yards and a Winchester.
Then a wounded man, a woman, and two bedraggled kids appeared in the distance, and just behind, the large dust cloud that meant Apaches. Bowdrie and Mooney could have played it safe, stayed hidden and let it happen. But suddenly the outlaw and the lawman became a crack team against a cruel enemy stalking helpless victims–two men for whom justice had taken a crazy turn.
Strange Pursuit
Bowdrie wants Charlie Venk. Shrewd and intelligent, Venk is riding hard on the sorrel he's stolen right out from under another man. His good looks, fast gun and reckless wit have already made him a legend. So Bowdrie has to be smarter, faster–and more relentless–in tracking his prey across dusty cowtowns, barren desert landscapes and through the canyons and pine forests of northern Arizona into deadly Apache territory.
This collection includes:
Case Closed - No Prisoners* • The Killer From The Pecos • A Ranger Rides to Town • Rain on the Mountain Fork • Down Sonora Way • Strange Pursuit* • (Titles with an "*" have a special introduction by Louis L'Amour)
Reviews
---