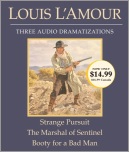 Strange Pursuit, The Marshal of Sentinel & Booty for a Badman
Your Price: $14.99
Audio Drama
(Usually ships within 24 hours)
Dramatization
Three CDs, 3 hours
This collection includes:

Strange Pursuit
Bowdrie wants Charlie Venk Big, handsome, Venk is best known for rustling cattle, robbing banks and shooting men out of their saddles. Shrewd and intelligent, Venk is riding hard on the sorrel he's stolen right from under another man. His good looks, fast gun and reckless wit have already made him a legend. So Bowdrie has to be smarter, faster and more relentless in tracking his prey across dusty cowtowns, barren desert landscapes and through the canyons and pine forests of northern Arizona into deadly Apache territory. But he never dreamed he'd be called upon to snatch Venk from the jaws of a horrible death to prove to the wild young killer that he's finally met his match!

The Marshal of Sentinel
Tough and vicious, the Fred Henry Gang had been robbing banks all along the stage route from Santa Fe to Tularosa. Then they added murder to their list of misdeeds. It was only a matter of time before they hit the sleepy town of Sentinel, and when Marshal Fitz Moore saw the lone grey horse with the "Rocking R" brand tied up behind Earl Peterson's old corral at dawn, he knew that day had come.
But when Julia Heath appeared out of the blue to raise the spectre of the past -- accusing the Marshal of killing her brother in cold blood -- he had a desperate and a delicate situation on his hands. Tom Heath's death had been a tragic accident. Now the Marshal had to find a snake-hearted liar, foil a bank robbery, prevent a bloodbath, and pray that the lovely young lady would fathom the quick, cruel violence of the savage frontier and find forgiveness in her heart.

Booty for a Badman
Tell Sackett knew that gold spelled trouble faster than anything except a woman, and he had a lot of gold. Problem was, none of it was his. Tell was just delivering the gold for a fee. The Coopers, a gang of bloodthirsty desperadoes who'd slit a man's throat for the silver filling in his teeth, were hot on his trail.
So, the last thing Tell needed was Christine Mallory, a pretty, stuck-up city woman, to slow him down. Taking her on could easily cost Tell his life. But it was that or leave her in the desert to die. As Tell Sackett's father used to say, "Women are trouble." Tell was about to learn what he meant.

Reviews
---