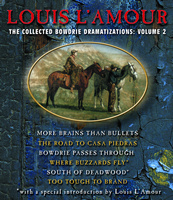 The Collected Bowdrie Dramatizations: Volume 2
Your Price: $29.95
Audio Drama
(Usually ships within 24 hours)
Chick Bowdrie could have ridden the outlaw trail, but the Texas Rangers recruited him because they didn't want to have to fight against him. Persuing the most wanted men in the Southwest he knew all too well the dusty trails, the bitter cattle feuds, the desperate killers and the quiet, weather-beaten, wind-blasted towns that could explode into action with the wrong word. He had sworn to carry out the law, but there were times when he had to apply justice with his fists and his guns. They called in the Rangers to handle the tough ones and there was never a Ranger tougher or smarter than Bowdrie. Follow Bowdrie's adventures in these six classic westerns by America's favorite storyteller, Louis L'Amour.
More Brains Than Bullets
Banker Tom Lindsay made a bad decision when he decided to do business with Ross Yerby. Yerby convinced Tom to print a few extra greenbacks to help him trade some cattle in exchange for half the profit. What Tom hadn't figured into the equation was Ross losing the money, and returning -- desperate -- for more. An argument between the two men goes bad, Lindsay is killed, and Yerby flees with a bundle of Lindsay's cash in tow.

With no witnesses to the robbery turned murder, the first accusing finger is pointed at Lindsay's assistant Bill Culver, who's conveniently absent when Lindsay's body is discovered. But Texas Ranger Chick Bowdrie, who's just arrived in town on a different matter, decides to take a detour and try to find Lindsay's killer. What he finds is a second victim -- but this one's still alive.

The Road to Casa Piedras
In the midst of a lively country dance, gunshots ring out at the stagecoach station and Texas Ranger Chick Bowdrie finds the station's master sprawled in a pool of his own blood. Twelve thousand dollars are missing. And an innocent man has been murdered. And it's up to Chick to bring the killer to justice. With the unerring instincts that make him one of the best trackers in the Texas Rangers, Chick locates the killer's camp--and his lifeless body, courtesy of a double-crossing accomplice. But the bloodshed won't end unless Chick can stop the mastermind behind the robbery, an unlikely schemer whose greed makes good men bad--and careless men dead.
Bowdrie Passes Through
Ride with the legendary Texas Ranger Chick Bowdrie as he sticks up for Josh Pettibone, a stubborn loner who faces the hanging noose of a kangaroo court. Bugs Tatum wants Pettibone's land–and he's willing to do anything to get it. He almost gets away with it . . . but then justice rides into town to set the matter straight.

Where Buzzards Fly
Texas Ranger Chick Bowdrie tracks the killers of an infamous Mexican outlaw, Zaparo, and fourteen of his desperadoes. With only the slightest clues to the ruthless ambush, Bowdrie is led to the K-Bar Ranch, and the beautiful girlfriend of the last living member of Zaparo's gang–only to find his prime suspect is a man closer to the Texas Rangers than he ever suspected.
South of Deadwood
Take the stagecoach into Deadwood with Ranger Chick Bowdrie to bring a notorious killer back to Texas - and justice. When he meets a beautiful young woman convinced Curly Starr can clear her brother's name, Bowdrie agrees to help. But first he must elude the rest of Starr's gang who wait for the legendary lawman and his prisoner to leave town - so they can kill them both!
Too Tough to Brand
Texas Ranger Chick Bowdrie is called to the O Bar O Ranch when the foreman, Bert Ramey, disappears with $15,000. But from what Dowdrie can tell, this Ramey was no thief. Karen Ramey tells him that she thinks her foster father may have been murdered, and she is afraid of the new foreman. Meanwhile, Lee Karns, the owner of the ranch, is behaving suspiciously-but how could her be involved with the theft of his own money? For Chick Bowdrie, justice may demand a showdown.
This collection includes:
More Brains Than Bullets • The Road to Casa Piedras • Bowdrie Passes Through • Where Buzzards Fly • South of Deadwood • Too Tough To Brand
Reviews
---