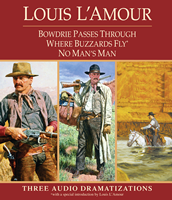 Bowdrie Passes Through, Where Buzzards Fly & No Man's Man
Your Price: $14.99
Audio Drama
(Usually ships within 24 hours)
Dramatization
Three CDs, 3 hours
This collection includes:

Bowdrie Passes Through
Ride with the legendary Texas Ranger Chick Bowdrie as he takes up the cause of Josh Pettibone, a stubborn loner who faces the hangman's noose. Bugs Tatum wants Pettibone's land--and he's willing to do anything to get it. But Bowdrie can not rest until justice is served!


Where Buzzards Fly
Ride with legendary Texas Ranger Chuck Bowdrie as he tracks the killers of an infamous Mexican outlaw, Zaparo, and fourteen of his desperadoes. With nary a clue to the solution of this ruthless ambush, Bowdrie is led to the K-bar ranch, and the beautiful girlfriend of the last living member of Zaparo's gang only to find his prime suspect is a "friend" of the Texas Rangers!

No Man's Man
Passion drives Lou Morgan to the town of Battle Basin--passion and the promise of $5000. For in this dusty town lives the wildly irresistible Nana Maduro, the woman Morgan loved enough to kill for, the woman who walked away from him without a word. Now, butter but still caught in her spell, Morgan hires on with one of Nana's suitors to eliminate that man's rival. But when Morgan finds himself the target of two brutal killers, he can't help but wonder what Nana's admirers are really after...or if he'll live to find out.

Reviews
---