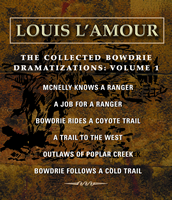 The Collected Bowdrie Dramatizations: Volume 1
Your Price: $29.95
Audio Drama
(Usually ships within 24 hours)
Follow Chick Bowdrie's adventure in these classic westerns by America's favorite storyteller, Louis L'Amour.

Chick Bowdrie could have been an outlaw, but he rode a different trail. The Texas Rangers recruited Bowdrie to help pursue the most wanted men in the Southwest. And Bowdrie knew the terrain all too well: the dusty trails, bitter cattle feuds, the desperate killers, and the weather-beaten towns that could explode into chaos at the wrong word. The Rangers were called in to handle the tough cases, and Bowdrie was the toughest and smartest. He had vowed to seek out justice, but there were times when justice required fists and guns...
McNelly Knows a Ranger
From the day Chick Bowdrie rode up to Noah Whipple's ranch gravely wounded, Whipple had treated him with kindness – almost like a son. When Whipple is shot by a notorious gunfighter, Bowdire swears vengeance. Joining McNelly's Texas Rangers, he vows to hunt down the killer along with his gang. But Chick Bowdrie does not realize just how vicious they are . . . or how ruthless they can be.
A Job for a Ranger
To clear the name of an innocent man, Texas Ranger Chick Bowdrie pursues a murderous gang of bank robbers and cattle rustlers.
Bowdrie Rides a Coyote Trail
On the trail of a ruthless killer named Carl Dyson, Ranger Chick Bowdrie finds the body of a rough-riding Californian, dry gulched and left to rot in the sun. With the dead man's horse in tow, Bowdrie ambles into the middle of a dispute between the H&H ranch and the Darcy spread. Seems some H&H hired guns are giving Jack Darcy a hard time . . . and leading the troublemakers is ranch owner Rack Herman, strangely in the middle of many a run-in.

But with the help of some friendly locals, Bowdrie pieces together a puzzle of murder, corruption, and the shady dealings of a power hungry rancher. Will Bowdrie travel far to track down Dyson . . . or is this killer closer than he thinks?
A Trail to the West
Join famed Texas Ranger Chick Bowdrie as he tracks the notorious John Queen, wanted for murder and kidnapping. Riding under an alias, Bowdrie joins up with Queen's ruthless gang to rescue the pretty niece of a powerful Texas judge. But when Queen discovers the lawman's true identity, Bowdrie must do some fast thinking and even faster shooting to beat the odds--five guns to one!
Outlaws of Poplar Creek
Set in a tiny hollow, surrounded by the steep cliffs of Lee's Canyon, Fosdick's Store is essential to the people of Poplar Creek. But lately, it's getting to be more than Moby Fosdick can do to run the place, raise his kids, and stay on the right side of the Tucker gang who hide out in the hills above the canyon.

Few travelers happen by Lee's Canyon. But when Texas Ranger Chick Bowdrie suddenly appears at Fosdick's door looking for Shad Tucker, slowly brewing trouble begins boiling over fast. Before the sun sets, bullets are flying. And by the time it rises again, Bowdrie's badly outnumbered, 16-year-old Lily Fosdick is trapped in a cave with a cold-hearted killer, and it's high time for 19-year-old Jerry Fosdick to decide which side of the law he's on.

Bowdrie Follows a Cold Trail
When Texas Ranger Chick Bowdrie rides into a long-abandoned ranch, he discovers the skeleton of its owner. All signs indicate that he was murdered years before, and that his wife and young daughter were taken away by force. Bowdrie vows to bring the killer to justice and to track down the whereabouts of the missing women. The cold trail leads to a hot lead in the town of Gabel's Stop, where a hardcase rancher has been waiting 16 years for the payoff of a lifetime.
This collection includes:
McNelly Knows a Ranger • A Job for a Ranger • Bowdrie Rides a Coyote Trail • A Trail to the West • Outlaws of Poplar Creek • Bowdrie Follows a Cold Trail
Reviews
---