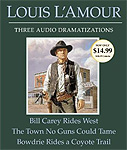 Bill Carey Rides West, The Town No Guns Could Tame & Bowdrie Rides A Coyote Trail

Play Excerpt
Your Price: $14.99
Audio Drama
(Usually ships within 24 hours)
Dramatization
Three CDs, 3 hours
This collection includes:

Bill Carey Rides West
Life on an Ohio farm couldn't hold young Bill Carey. He wanted the adventure he knew waited in the territories to the west. He'd drifted into the outlaw life, and now he found himself shot up, a lawman on his trail, holed up on a small farm near the lair of Tabat Ryerson. Ryerson, the man who'd introduced him to cattle rustling and bank robbery, a cold-blooded killer. The man who'd turned the sweet young woman who'd saved Carey's life into an unwilling accomplice. On a remote little farm, Carey's caught between both sides of the law, and he finds a reason for staying alive in a rancher's pretty daughter.

The Town No Guns Could Tame
Overrun by hard-bitten miners, gamblers, and the kind of no-account drifters that follow the gold camps, Basin City is a place where no respectable citizen feels safe. That's why three of the town's foremost businessmen have gone and hired a new marshal. Tomorrow he'll be in charge of protecting a stagecoach carrying over a quarter million dollars in gold as it moves out of the Basin City depot. Tonight he'll be defending his life--
For Perry, a gunfighter on the run, this job should have turned his life around. Instead, it's landed him in a peck of trouble. And now, unless Perry uncovers the motives of a mysterious saloon owner and gets wise to a double-crossing, he's headed for a lynching--he own.

Bowdrie Rides a Coyote Trail
On the trail of a ruthless killer named Carl Dyson, Ranger Chick Bowdrie finds the body of a rough-riding Californian left to rot in the sun. With the dead man's horse in tow, Bowdrie ambles into the middle of a dispute between the H&H ranch and the Darcy spread. Seems some H&H hired guns are giving Jack Darcy a hard time . . . and leading the troublemakers is ranch owner Rack Herman. Will Bowdrie travel far to track down Dyson . . . or is this killer closer than he thinks?

Reviews
---