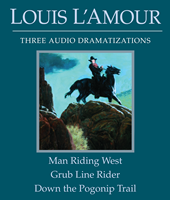 Man Riding West, Grub Line Rider & Down the Pogonip Trail
Your Price: $14.99
Audio Drama
(Usually ships within 24 hours)
Dramatization
Three CDs, 3 hours
This collection includes:

Man Riding West
Jim Gary had always tried to avoid trouble, but after he is forced to kill a Mexican gunman in a cantina showdown, trouble seems to seek him out. A shoot-out with the gunman's vengeful outlaw buddies sends Jim on the run with an unwanted reputation as a dangerous gunslinger. And when he hires on as a cowhand, Jim risks being strung up as a rustler and murderer—unless he can use his wits as quickly as his guns.

Grub Line Rider
Most folks would call Kim Sartain an easygoing, peace-loving man. But the few who crossed the young drifter knew there was nothing he liked better than a good fight. When cattleman Jim Targ challenges Sartain's right to ride across an unclaimed stretch of meadow, Sartain decides he'll do better than ride through: He'll put down stakes there and homestead the land. Soon there's more at risk than land and pride when Targ hires a gunman to teach Sartain a permanent--and deadly--lesson.

Down the Pogonip Trail
Jeff Kurland didn't have a gun. Jeff Kurland didn't have a chance. The rancher knew that even as he scanned the cabin for a weapon, any weapon. He was trapped with a killer who had a pistol in his hand and a bounty on his head. And outside, the pogonip swirled and fell, an icy blanket of fog that settled like a shroud over every living thing. Death would creep into the cabin with the bone-chilling cold or slice through him with the speed of a bullet. Either way, time was running out . . . for both of them.

Reviews
---