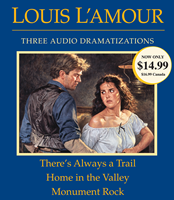 There's Always a Trail, Home in the Valley & Monument Rock
Your Price: $14.99
Audio Drama
(Usually ships within 24 hours)

There's Always a Trail
When a stranger named Handy offered to track down Cass Bailey's stolen money for a stake in the CB range, Bailey has nothing more to lose. But his pretty hot-tempered daughter, Ann, was certian that Handy couldn't find the money unless he'd had a hand in stealing it. So when Handy hit pay dirt Ann Bailey was there to send all his plans to blazes. Now he faced a shoot-out with the pack of villains who held both Ann and his future hostage--and a challenge to prove he wasn't a theif to the woman he loved.

Home in the Valley
Steve Mehan had done the impossible when he drove a herd of cattle from the Nevada range to California in the dead of winter. But Mehan had little time to rest before tragedy struck. The bank that held the cash had failed--the payment was gone. Steve didn't hesitate. Now he'd have to ride hell-for-leather from Sacramento, California, to Portland, Oregon, with only one hope in a million. He had to beat the steamer to the Portland branch and withdraw the randers' money before the back got the news.

Monument Rock
It had been many years since Lona Markham's father sent her from the rigors of ranch life to a convent school. Now she's returned to a wary, careworn man who hardly seems like the father she remembers. The ranch she's set to inherit someday is shadowed by brutish Frank Mailer, the man Lona's promised to marry--and haunted by the mysterious Black Rider, who watches the Blue Hill Ranch from a distance. Some say the Rider is a ghost, but all Lona knows is his presence makes both Poke Markham and Frank Mailer uneasy.
Then one day the enigmatic stranger reveals himself to Lona. Lance Kilkenny has ridden to this rugged country to repay an old debt to Lona's father. When he exposes a cold and daring scheme to cheat her of the Blue Hill Ranch, Lona Markham is plunged into terrible danger. But Kilkenny has a cool head and a fast gun hand...

Reviews
---