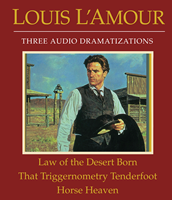 Law of the Desert Born, That Triggernometry Tenderfoot & Horse Heaven
Your Price: $14.99
Audio Drama
(Usually ships within 24 hours)

Law of the Desert Born
These stories represent Louis L'Amour at his best--stirring adventure tales of the ageless Old West, as tough and gritty as the men who tames it. Each story is personally selected, with an introduction and special historical notes, by the author.
Meet men like Shad Marone, the gunfighter who killed in self-defense, but who is forced to run because he killed the wrong man--the sheriff's brother; Matt Sabre, as tough as the Texas trail he rides, on a mission of mercy to the wife of the man he gunned down; and Kim Sartain, a reckless young drifter who refuses to back down from a showdown with a vicious outlaw killer. Every story in this collection bear's Louis L'Amour's distinctive brand of unbridled action and unembellished authenticity--taking us into the white-hot deserts, stone-cold canyons, and rough-and-tumble towns of the world only he knows so well.

That Triggernometry Tenderfoot
An action-packed story from the popular western anthology, Long Ride Home.

Horse Heaven
When Jim Locklin pays his brother George a visit, he finds George missing, his horse ranch taken over by his brother's estranged wife, and a shifty gambler named Chance Varrow who seems to have become a permanent visitor.
As Jim's suspictions build, they center on one person -- Varrow, whose relationship with George's wife, Amie, is a little too close for comfort. Taking matters into his own hands, Jim vows to find out the truth, no matter what the cost. In the end, it will all come down to just two men -- and only one will walk away.

Reviews
---