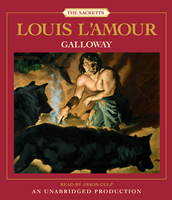 Galloway


Play Excerpt
Your Price: $4.99
Unabridged Reading
(Usually ships within 24 hours)

STORY LOCATION MAP

Read by Jason Culp
5 Hours on 5 CDs
A desperate stand. . .

Trouble was following Flagan Sackett with a vengeance. Captured and tortured by a band of Apaches, he had escaped into the rugged San Juan country, where he would try to stay alive until his brother Galloway could find him.

But the brothers were about to find worse trouble ahead. Their plan to establish a ranch angered the Dunn clan, who had decided that the vast range would be theirs alone. Now Galloway and Flagan would face an enemy who killed for sport -- but as long as other Sacketts lived, they would not fight alone. . .
Galloway was thinking of Flagan Sackett. Somewhere in those mountains, without weapons, in a rugged country where the only humans he found we apt to be enemies, he would have to fight for his life alone. Galloway knew what Flagan must do to survive because he knew what he would do -- and because Flagan was his brother in thinking as well as in blood. And for Sackett there was no easy way.
Filled with action, adventure, mystery, and historical detail, the Sackett saga is an unforgettable achievement by one of America's greatest storytellers.
Two brothers must struggle to survive in a wild and beautiful land to build themselves a ranch and a future.
Reviews
---
---


CLICK HERE for a list of all the SACKETT Audios!
---


CLICK HERE for a list of all the SACKETT Novels!
---