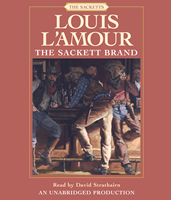 CLICK HERE
The Sackett Brand


Play Excerpt
Your Price: $25.95
Unabridged Reading
(Usually ships within 24 hours)

STORY LOCATION MAP

Read by David Strathairn
4 Hours on 4 CDs
They are the unforgettable pioneer family created by master storyteller Louis L'Amour to bring to vivid life the spirit and adventure of the American frontier: the Sacketts, men and women who challenged the untamed wilderness with their dreams and their courage. From generation to generation they pushed ever westward with a restless, wandering urge, a kinship with the free, wild places and a fierce independence. The Sacketts always stood tall and, true to their strong family pride, they would unite to take on any and all challenges, no matter how overwhelming the odds. Each Sackett novel is a complete, exciting historical adventure, and as a group, Louis L'Amour's The Sacketts form an epic story of the building of our mighty nation, a saga that has thrilled millions. And now, for the very first time, The Sacketts are presented in an exclusive audio series that listeners will cherish for years to come.
Tell Sackett was miles away from anyone he knew and he had no reason to think there were enemies nearby. But then Tell is shot without warning - and when he finally comes to, he discovers that all traces of his life have vanished. His wagon has disappeared and his beloved wife, Ange, is missing. Sackett vows to stop at nothing to find out what became of her. But when the truth emerges, it is more terrifying than he ever imagined - and it will take all his strength to find out once and for all why the forces behind the mystery won't stop until Sackett is dead.
David Strathairn's film credit s include A Midsummer Night's Dream, L.A. Confidential, Delores Clairborne, Losing Isaiah, The Firm, and A League of Their Own. On Broadway he has been in The Three Sisters and Einstein and the Polar Bear.
Reviews
---