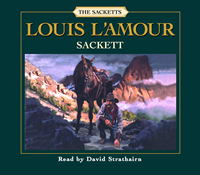 CLICK HERE
Sackett


Play Excerpt
Your Price: $29.95
Unabridged Reading
(Usually ships within 24 hours)

STORY LOCATION MAP

Read by David Strathairn
4 Hours on 4 CDs
They are the unforgettable pioneer family created by master storyteller Louis L'Amour to bring to vivid life the spirit and adventure of the American frontier: the Sacketts, men and women who challenged the untamed wilderness with their dreams and their courage. From generation to generation they pushed ever westward with a restless, wandering urge, a kinship with the free, wild places and a fierce independence. The Sacketts always stood tall and, true to their strong family pride, they would unite to take on any and all challenges, no matter how overwhelming the odds. Each Sackett novel is a complete, exciting historical adventure, and as a group, Louis L'Amour's The Sacketts form an epic story of the building of our mighty nation, a saga that has thrilled millions. And now, for the very first time, The Sacketts are presented in an exclusive audio series that listeners will cherish for years to come.
William Tell Sackett had followed a different path from his younger brothers, but his name, like theirs, was spoken with respect and just a little fear. Where Orrin had brought law and order from New Mexico to the plains of Montana, backed up by the gunfighting talents of his brother Tye, Tell Sackett's destiny drew him to Texas after he had to kill a man. There, in the high, lonesome country, he came upon a vein of pure gold. All he'd wanted was enough to buy a ranch, but he soon learned that gold had ways of its own with men.
David Strathairn's film credit s include A Midsummer Night's Dream, L.A. Confidential, Delores Clairborne, Losing Isaiah, The Firm, and A League of Their Own. On Broadway he has been in The Three Sisters and Einstein and the Polar Bear.
Reviews
---