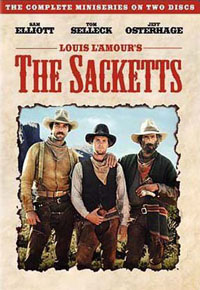 The Sacketts
Your Price: $19.97
Mini-Series
(Usually ships within 24 hours)
Warner Bros.
STARRING: Sam Elliott, Tom Selleck, and Jeff Osterhage
DIRECTED BY: Robert Totten
Western excitement in the tradition of Lonesome Dove.
To avoid a Tennassee blood feud, two Sackett brothers head westward toward an uncertain future. "Ride with the law," Mar counsels. They do more than that. They become the law.
Tom Selleck, Sam Elliott and Jeff Osterhage join veterans Glenn Ford, Ben Johnson, Slim Pickens and more in The Sacketts, based on two (The Daybreakers and Sackett) of the more than 100 books buy the world's most beloved novelist of the American Frontier, Louis L'Amour
Young Tye Sackett (Osterhage) lucks into a cattle-drive job. Orrin (Selleck) soon signs on with the same outfit. Meanwhile eldest brother Tell (Elliott) prospects for gold in the high country. Each aims to make it on his own in a West of open landscapes and clenched fists. But each also stands up for the other when the going gets tough. Their guns blaze a name for themselves in untamed New Mexico territory: The Sacketts.
Cast:
Ana Alicia
....
Drusilla Alvarado
Pat Buttram
....
Tuthill
Henry Capps
....
Boyd
Ramon Chavez
....
Pete Romero
Don Collier
....
L.P. Seeker
Pam Earnhardt
....
Mary
Jack Elam
....
Ira Bigelow
Sam Elliott
....
Tell Sackett
Gene Evans
....
Benson Bigelow
Bruce M. Fischer
....
The Trapper
Shug Fisher
....
Purgatorie Bartender
Glenn Ford
....
Tom Sunday
James Gammon
....
Wes Bigelow
Marcy Hanson
....
Laura Pritts
Bill Hart
....
Rodale
Richard Jamison
....
Miner #1
Ben Johnson
....
Cap Roundtree
L.Q. Jones
....
Beldon
Paul Koslo
....
Kid Newton
Brian Libby
....
Durango
Pat Mahoney
....
Purgatorie Customer
Mercedes McCambridge
....
Ma Sackett
Jeff Osterhage
....
Tyrel 'Ty' Sackett
Kimo Owens
....
Fetterson
Slim Pickens
....
Jack Bigelow
Ken Plonkey
....
Miner #2
Frank Ramírez
....
Juan Torress
Wendy Rastattar
....
Ange Kerry
Gilbert Roland
....
Don Luis
Ruth Roman
....
Rosie
Tom Selleck
....
Orrin Sackett
Monique St. Pierre
....
Delilah
Buck Taylor
....
Reed Carney
John Vernon
....
Jonathan Pritts
Mark Wales
....
Teller
Tom Waters
....
Hobes
Malcolm Watts
....
Preacher
Lee de Broux
....
Simpson
Approxomate Running Time:
3 hours 18 minutes
on 2 DVDs
Color 1979
Reviews
---