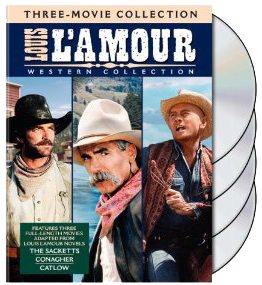 The Louis L'Amour Western Collection
Your Price: $14.99
Movie
(Usually ships within 24 hours)
THE SACKETTS (More Info)
STARRING: Sam Elliott, Tom Selleck, and Jeff Osterhage
DIRECTED BY: Robert Totten
Western excitement in the tradition of Lonesome Dove.
To avoid a Tennassee blood feud, two Sackett brothers head westward toward an uncertain future. "Ride with the law," Mar counsels. They do more than that. They become the law.
Tom Selleck, Sam Elliott and Jeff Osterhage join veterans Glenn Ford, Ben Johnson, Slim Pickens and more in The Sacketts, based on two (The Daybreakers and Sackett) of the more than 100 books buy the world's most beloved novelist of the American Frontier, Louis L'Amour
Young Tye Sackett (Osterhage) lucks into a cattle-drive job. Orrin (Selleck) soon signs on with the same outfit. Meanwhile eldest brother Tell (Elliott) prospects for gold in the high country. Each aims to make it on his own in a West of open landscapes and clenched fists. But each also stands up for the other when the going gets tough. Their guns blaze a name for themselves in untamed New Mexico territory: The Sacketts.
CONAGHER (More Info)
STARRING: Sam Elliott, Katherine Ross and Barry Corbin
DIRECTED BY: Reynaldo Villalobos
NONE TOUGHER. NONE FASTER. NONE DEADLIER.
The Old West comes to life in this taut, searing, bloody tale of crime and vengeance starring Sam Elliott (Mask, Sibling Rivalry) as Conagher and Katherine Ross (Butch Cassidy and the Sundance Kid, The Graduate) as Edie.
Any man is crazy to pull a gun on Conagher because he shoots once - and shoots to kill. Hired to guard cattle on a nearby ranch he discovers his fellow ranch-hands are in league with a gang of rustlers. When Conagher gets on their trail and is taken down by a bullet from behind, he doesn't just want revenge, he wants justice. And he'll kill to see justice done. Then, when the killing is over, maybe he'll find a place to call home and a woman like Edie waiting for him . . . if he survives.
CATLOW (More Info)
STARRING: Yul Brynner, Richard Crenna, Leonard Nimoy
DIRECTED BY: Sam Wanamaker
Yul Brynner has Richard Crenna at his side . . .
and Leonard Nimoy at his back!
Tough, lusty Catlow (Yul Brynner) is fast on the draw and even faster when it comes to making a dollar. He's also a wanted man. The Mexican Army is after him. So are his hellcat girlfriend, an Indian war party, a vengeful killer (Leonard Nimoy) and several hotheaded cowpokes from Catlow's outlaw gang. With enemies like these, it's a good thing Marshal Ben Cowan (Richard Crenna) is around. The marshal is Catlow's best friend, and he'd ride through rattlesnakes to rescue his besieged buddy. Because Cowan wants the pleasure of putting Catlow behind bars all to himself.
Brynner and Crenna bring a backslapping, backstabbing camaraderie to their portrayal of friendly foes. Nimoy, as mean as a hungry coyote, supplies the menace.
Catlow is a "much-welcome respite for western fans, offering relaxing, lighthearted entertainment"

. . .Kevin Thomas, Los Angeles Times
This western rides hard, shoots straight and winks amiably through its clouds of dust.
Reviews
---