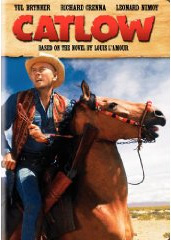 Catlow
Your Price: $14.99
Movie
(Usually ships within 24 hours)

STORY LOCATION MAP
Metro-Goldwin-Mayer
STARRING: Yul Brynner, Richard Crenna, Leonard Nimoy
DIRECTED BY: Sam Wanamaker
Yul Brynner has Richard Crenna at his side . . .
and Leonard Nimoy at his back!
Tough, lusty Catlow (Yul Brynner) is fast on the draw and even faster when it comes to making a dollar. He's also a wanted man. The Mexican Army is after him. So are his hellcat girlfriend, an Indian war party, a vengeful killer (Leonard Nimoy) and several hotheaded cowpokes from Catlow's outlaw gang. With enemies like these, it's a good thing Marshal Ben Cowan (Richard Crenna) is around. The marshal is Catlow's best friend, and he'd ride through rattlesnakes to rescue his besieged buddy. Because Cowan wants the pleasure of putting Catlow behind bars all to himself.
Brynner and Crenna bring a backslapping, backstabbing camaraderie to their portrayal of friendly foes. Nimoy, as mean as a hungry coyote, supplies the menace.
Catlow is a "much-welcome respite for western fans, offering relaxing, lighthearted entertainment"

. . .Kevin Thomas, Los Angeles Times
This western rides hard, shoots straight and winks amiably through its clouds of dust.
Cast
Yul Brynner
....
Catlow
Richard Crenna
....
Cowan
Leonard Nimoy
....
Miller
Daliah Lavi
....
Rosita
Jo Ann Pflug
....
Christina
Jeff Corey
....
Merridew
Michael Delano
....
Rio
Julián Mateos
....
Recalde
David Ladd
....
Caxton
Bessie Love
....
Mrs. Frost
Bob Logan
....
Oley
John Clark
....
Keleher
Dan van Husen
....
Dutch
Cass Martin
....
Sanchez
José Nieto
....
General
Approximate Running Time:
1 hour 43 minutes
Color 1971
Reviews
---