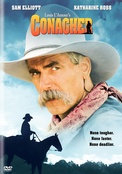 Conagher
Your Price: $14.97
Movie
(Usually ships within 24 hours)

STORY LOCATION MAP
Turner Home Entertainment
STARRING: Sam Elliott, Katherine Ross and Barry Corbin
DIRECTED BY: Reynaldo Villalobos
NONE TOUGHER. NONE FASTER. NONE DEADLIER.
The Old West comes to life in this taut, searing, bloody tale of crime and vengeance starring Sam Elliott (Mask, Sibling Rivalry) as Conagher and Katherine Ross (Butch Cassidy and the Sundance Kid, The Graduate) as Edie.
Any man is crazy to pull a gun on Conagher because he shoots once - and shoots to kill. Hired to guard cattle on a nearby ranch he discovers his fellow ranch-hands are in league with a gang of rustlers. When Conagher gets on their trail and is taken down by a bullet from behind, he doesn't just want revenge, he wants justice. And he'll kill to see justice done. Then, when the killing is over, maybe he'll find a place to call home and a woman like Edie waiting for him . . . if he survives.
Cast:
Sam Elliott
....
Conn Conagher
Katharine Ross
....
Evie Teale
Barry Corbin
....
McCloud
Billy Green Bush
....
Jacob Teale
Ken Curtis
....
Tay
Paul Koslo
....
Kiowa Staples
Gavan O'Herlihy
....
Mahler
James Parks
....
Curly
Daniel Quinn
....
Johnny McGivern
Pepe Serna
....
Casuse
Buck Taylor
....
Tile Coker
Dub Taylor
....
Station Agent
Cody Braun
....
Laban Teale
Anndi McAfee
....
Ruthie Teale
James Gammon
....
Smoke Parnell
Approximate Running Time:
1 hour 56 minutes
Color 1991
Reviews
---