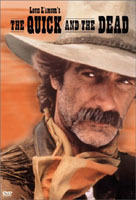 The Quick and the Dead
Your Price: $19.98
Movie
(Usually ships within 24 hours)

STORY LOCATION MAP
HBO Pictures and Warner Bros.
STARRING: Sam Elliott, Kate Capshaw, and Tom Conti
DIRECTED BY: Robert Day
In 1876 Wyoming, the gun is the only law. And for Duncan and Susanna McKaskel (Tom Conti and Kate Capshaw), newly arrived settlers beset by outlaws, rugged frontiersman Con Villain (Sam Elliott) is the only hope.
The Quick and the Dead is a rousing adventure in the tradition of all-time greats like Shane and Pale Rider. It shares the tried-and-true ingredients of those sagebrush sagas: a storyline about peacable folk driven to action under the guidance of a mysterious stranger.
The Quick and the Dead features rich cinematography of the great outdoors (by Dick Bush) and a stellar cast, here led by the incomparable Elliott (The Sacketts, Tombstone), whom John J. O'Connor of the New York Times called "the niftiest cowboy this side of John Wayne and Walter Brennan." Saddle up!
Cast:
Sam Elliott
....
Con Vallian
Tom Conti
....
Duncan McKaskel
Kate Capshaw
....
Susanna McKaskel
Kenny Morrison
....
Tom McKaskel
Matt Clark (I)
....
Doc Shabitt
Patrick Kilpatrick
....
The Ute
Jerry Potter
....
Red Hayle
Billy Streater
....
Ike Mantle
Del Shores
....
Purdy Mantle
R.L. Tolbert
....
Johnny Dobbs
Jeffrey M. Meyer
....
Butcher McCloud
Kurt D. Lott
....
Lenny Shabitt
Hardy Rawls
....
Joy
Larry Sellers
....
Running Wolf
Bill Stedman
....
Bartender
Approxomate Running Time:
1 hour 31 minutes
Color 1987
Reviews
---