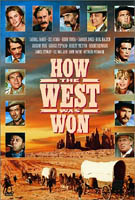 How the West Was Won
Your Price: $19.98
Movie
(Usually ships within 24 hours)
Warner Bros.
STARRING: John Wayne, James Stewart, Henry Fonda, Richard Widmark, Debbie Reynolds, Carl Malden, Carolyn Jones, and a Hollywood who's who!
DIRECTED BY: Henry Hathaway, George Marshall, and the legendary John Ford (and including uncredited sequences directed by Richard Thorpe)
With Courage, Sinew and Conflict: that's how the West was won. With three directors, five interlocked stories, some of the most legendary action scenes in movie history and a constellation of acting talent: that's how How the West Was Won was filmed.
Henry Fonda. Gregory Peck. Debbie Reynolds. James Stewart and John Wayne are among the big names in this big-event saga following a dauntless family's move west through generations - underscored by the spectacles of a heart pounding raging river ride, a thnderous buffalo stampede and a bracing runaway train shootout. The winner of three Academy Awards.
Cast:
Carroll Baker
....
Eve Prescott
Lee J. Cobb
....
Marshal Lou Ramsey
Henry Fonda
....
Jethro Stuart
Carolyn Jones
....
Julie Rawlings
Karl Malden
....
Zebulon Prescott
Gregory Peck
....
Cleve Van Valen
George Peppard
....
Zeb Rawlings
Robert Preston
....
Roger Morgan
Debbie Reynolds
....
Lillith Prescott
James Stewart
....
Linus Rawlings
Eli Wallach
....
Charlie Gant
John Wayne
....
Gen. William Tecumseh Sherman
Richard Widmark
....
Mike King
Walter Brennan
....
Col. Jeb Hawkins
Spencer Tracy
....
Narrator (voice)
Approxomate Running Time:
2 hours 42minutes
Color 1962
Reviews
---