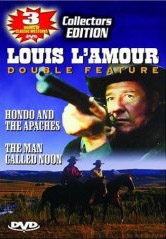 Hondo and the Apaches / The Man called Noon
Your Price: $14.95
Movie
(Usually ships within 24 hours)
Hondo and the Apaches
STARRING: Ralph Teager
DIRECTED BY: Lee H. Katzin
This Louis L'Amour classic is based on the original John Wayne film, Hondo. Ralph Teager stars as Hondo Lane, an Indian scout assigned a nearly impossible mission. He must mediate between the Native Americans and the United States Army during a time of dangerous instability. The bountiful land that once remained still is now flooded with men ready to do anything to get what they want. The question remains, can men who fought each other and once tried to kill each other, make peace? Get ready for some rip-roaring, gun-slinging, action-packed adventure.
This feature, made up of material from the short-lived TV series, HONDO. Leading man Ralph Taeger has a wry quality which is refreshing. A highlight comes when he's staked-out by a vengeful Apache who's about to pour hot coals on Taeger's bare chest when a rescue intervenes. The extreme angle at which Taeger's legs are staked apart in this scene must set a record.
Cast:
Ralph Taeger
....
Hondo Lane
Kathie Browne
....
Angie Dow
Michael Rennie
....
Tribolet
Noah Beery Jr.
....
Buffalo Baker
Gary Clarke
....
Captain Richards
Randy Boone
....
Sean Gallagher
Gary Merrill
....
Gen. Sheridan
John Smith
....
Ed Dow
Buddy Foster
....
Johnny Dow
Michael Pate
....
Vittoro
Victor Lundin
....
Silva
Jim Davis
....
Krantz
Steven Marlo
....
Reese
John Pickard
....
Lieutenant
William Bryant
....
Colonel Crook
Approxomate Running Time:
1 hour 13 minutes
Color 1967
The Man Called Noon
STARRING: Richard Crenna
DIRECTED BY: Peter Collinson
They Buried The Wrong Man.
He Won't Make The Same Mistake.
A gunslinger known as Noon (Crenna), fights for vengeance after losing his memory during a surprise attack. A classic western/drama film with great performances by Richard Crenna and Stephen Boyd.
Cast overview:
Richard Crenna
....
Noon
Rosanna Schiaffino
....
Fan Davidge
Stephen Boyd
....
Rimes
Farley Granger
....
Judge Niland
Patty Shepard (I)
....
Peg Cullane
Aldo Sambrell
....
Kissling
Ángel del Pozo
....
Ben Janish
Charly Bravo
....
Lang
Howard Ross
....
Bayles
Approxomate Running Time:
1 hour 27 minutes
Color 1972
Reviews
---