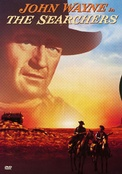 The Searchers
Your Price: $14.97
Movie
(Usually ships within 24 hours)
NOT RATED
---
BEAU'S NOTES: Three great examples of John Wayne playing different shades of an Anti Hero. In The Searchers he plays a homicidal racist (this while Clint Eastwood was still in short pants), in Red River he's the heavy, and in Liberty Valence he plays a second or third tier role just to support Jimmy Stewart ... Wayne had MUCH more courage in his choice of roles and pushed the boundaries of his art much farther than he is ever given credit for.
---
A favorite film of some of the world's greatest filmmakers, including Martin Scorsese and Steven Spielberg, John Ford's The Searchers has earned its place in the legacy of great American films.
When Ethan decides to go find the Indians who killed his family, he is joined by his nephew, Martin Pawley. The problem is that Pawley is half-Indian, and there's nothing in the world tha Edwards hates more than Indians. The journey to find the Indians and Edwards niece (and Pawley half-sister) becomes a five-year quest for revenge played out against the spectacular background of the Navajo Nation's Monument Valley.
STARRING: John Wayne, Jeffrey Hunter, Natalie Wood, Vera Miles, Ward Bond, John Qualen, Harry Carey Jr., Olive Carey, Antonio Moreno, Henry Brandon, Hank Worden, Lana Wood, Dorothy Jordan, Pat Wayne
DIRECTED BY: John Ford
Approxomate Running Time: 119 Minutes
U.S. and Canada only. This DVD will probably NOT be viewable in other countries.
DVD Release Date: October 28, 1997
Reviews
---