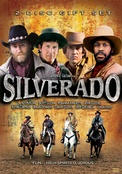 Silverado - 2 Disk Superbit Gift Set with a Free Deck of Cards!
Your Price: $19.94
Movie
(Usually ships within 24 hours)
Rated PG-13; Contains language, violence
---
BEAU SAYS: An homage to "Two Reelers" and pulp westerns ... possibly even an homage to Louis L'Amour, you decide ...
---
Get ready for some horse-ridin' gun-totin' whiskey-drinkin fun in this digitally remastered gift set of Larwence Kasdan's SILVERADO, presented in Superbit for the highest quality picture available.
SPECIAL FEATURES: Includes a free deck of Silverado playing cards--emblazed with the new poster art. This DVD set is a Superbit presentation that is better than the original DVD. Director Lawrence Kasdan gives up the commentary chair to three cowboys/movie historians/professors. They have a nice rapport and give balance to how great Westerns aren't necessarily made up of the facts. Plus a new 20-minute reminisce by Kevin Costner that is a must for the actor's fans. The well-conceived 1998 making-of includes the "History of the Shootout" narrated by John Cleese.
STARRING: Kevin Kline, Scott Glenn, Kevin Costner, Rosanna Arquette, John Cleese, Brian Dennehy, Danny Glover, Jeff Goldblum, Linda Hunt, Ray Baker, Joe Seneca, Lynn Whitfield, Jeff Fahey
DIRECTED BY: Lawrence Kasdan
Approxomate Running Time: 132 Minutes
U.S. and Canada only. This DVD will probably NOT be viewable in other countries.
DVD Release Date: April 5, 2005
Reviews
---