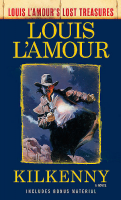 CLICK HERE
Kilkenny - Now including Louis L'Amour's Lost Treasures Bonus Material Postscript!
Your Price: $5.99
Paperback
(Usually ships within 24 hours)

STORY LOCATION MAP
About eBook Links - Apple iBook | Amazon Kindle
As part of the Louis L'Amour's Lost Treasures series, this edition contains exclusive bonus materials!
Kilkenny wasn't looking for trouble when he entered the Clifton House stage station, but trouble found him when a reckless youngster named Tetlow challenged him, drew his gun, and paid for it with his life.
Looking to escape a reputation that he never wanted, Kilkenny settles in the lonely mountain country of Utah, planning to ranch a high, lush valley. But the past is on his trail. Jared Tetlow is a powerful rancher determined to run his vast herd on the limited grasslands there—whether he has to buy out the local ranchers, run them out, or kill them. He'll cut down anyone who stands in his way, especially a man he already despises: the gunman named Kilkenny—the man who killed his son.
Louis L'Amour's Lost Treasures is a project created to release some of the author's more unconventional manuscripts from the family archives.
In Louis L'Amour's Lost Treasures: Volumes 1, Beau L'Amour takes the reader on a guided tour through many of the finished and unfinished short stories, novels, and treatments that his father was never able to publish during his lifetime. L'Amour's never-before-seen first novel, No Traveller Returns, will also be released as a Lost Treasures publication, followed by Louis L'Amour's Lost Treasures: Volume 2.
Additionally, many beloved classics will be rereleased with an exclusive Lost Treasures postscript featuring previously unpublished material, including outlines, plot notes, and alternate drafts. These postscripts tell the story behind the stories that millions of readers have come to know and cherish.
About eBook Links - Apple iBook | Amazon Kindle
Historical Releases


Reviews
---