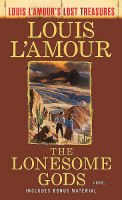 CLICK HERE
The Lonesome Gods - Now including Louis L'Amour's Lost Treasures Bonus Material Postscript!
Your Price: $5.99
Paperback
(Usually ships within 24 hours)

STORY LOCATION MAP
About eBook Links - Apple iBook | Amazon Kindle
The Lonesome Gods (Louis L'Amour's Lost Treasures)
The classic Western, now newly repackaged as part of Bantam's Louis L'Amour's Lost Treasures program—with never-before-seen material from Louis and his son, Beau L'Amour.
"I am Johannes Verne, and I am not afraid."
This was the boy's mantra as he plodded through the desert alone, left to die by his vengeful grandfather. Johannes Verne was soon to be rescued by outlaws, but no one could save him from the lasting memory of his grandfather's eyes, full of impenetrable hatred. Raised in part by Indians, then befriended by a mysterious woman, Johannes grew up to become a rugged adventurer and an educated man. But even now, strengthened by the love of a golden-haired girl and well on his way to making a fortune in bustling early-day Los Angeles, the past may rise up to threaten his future once more. And this time only the ancient gods of the desert can save him.
"Riveting reading." -- The New Yorker.
"This is L'Amour's finest book." -- California Magazine
About eBook Links - Apple iBook | Amazon Kindle
Historical Releases


Reviews
---