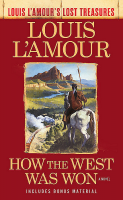 CLICK HERE
How the West Was Won - Now including Louis L'Amour's Lost Treasures Bonus Material Postscript!
Your Price: $5.99
Paperback
(Usually ships within 24 hours)
About eBook Links - Apple iBook | Amazon Kindle
They came by river and by wagon train, braving the endless distances of the Great Plains and the icy passes of the Sierra Nevada. They were men like Linus Rawlings, a restless survivor of Indian country who'd headed east to see the ocean but left his heart—and his home—in the West. They were women like Lilith Prescott, a smart, spirited beauty who fled her family and fell for a gambling man in the midst of a frontier gold boom. These pioneering men and women sowed the seeds of a nation with their courage—and with their blood. Here is the story of how their paths would meet amid the epic struggle against fierce enemies and nature's cruelty, to win for all time the rich and untamed West.
Louis L'Amour's great epic of human courage and endurance, his brave saga of the men and women who pushed relentlessly forward--despite the uncertainties of nature, the wrath of savage enemies, countless dangers and cruel death--to win the wide, shining lands of the rich and untamed West!
In the Postscript, Beau L'Amour (Louis' Son) shares with you the truly personal story behind Louis' decision to write the novelization of the film script for How the West Was Won. You'll discover some of the difficult decisions made and the compromises required to bring this Western Masterpiece to life!
About eBook Links - Apple iBook | Amazon Kindle
Historical Releases


Reviews
---