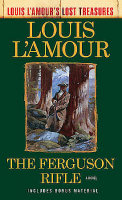 CLICK HERE
The Ferguson Rifle - Now including Louis L'Amour's Lost Treasures Bonus Material Postscript!
Your Price: $5.99
Paperback
(Usually ships within 24 hours)

STORY LOCATION MAP
About eBook Links - Apple iBook | Amazon Kindle
About The Ferguson Rifle (Louis L'Amour's Lost Treasures)
The classic Western, now newly repackaged as part of Bantam's Louis L'Amour's Lost Treasures program–with never-before-seen material from Louis and his son, Beau L'Amour.
It began with gold that had once belonged to Montezuma. Stolen and cached in a church in Mexico, it was recovered by two army officers who fled north for the French settlements. Along the way one stabbed the other to death. The remaining officer was eventually killed by Plains Indians, but he buried the treasure just before he died.
Now Ronan Chantry, a handful of trappers, and an Irish girl whose father was killed after telling her a few vague landmarks are searching for the lost treasure. But they are not alone. The girl's uncle, Rafen Falvey, wants it, too. Like Chantry, he is well educated, bold, and determined. Under different circumstances the two men might have been friends. But in all likelihood it wouldn't have made any difference. When it comes to gold, even friendship doesn't keep men from killing each other.
IN THE POSTSCRIPT - Beau L'Amour shares some insights from his father into the possible relationships between the Talon, Chantry, and Sackett families. Louis firmly sets this book between two unwritten chapters in the Chantry family chronology.
The first, set before The Ferguson Rifle, was to be a Revolutionary War novel about which Beau shares many development notes and ideas with which Louis was playing.
The second, set after The Ferguson Rifle, was to be called "Cibolero" and was to be set in the South Western US, California, New Mexico, and Colorado.
About eBook Links - Apple iBook | Amazon Kindle
Historical Releases



Reviews
---