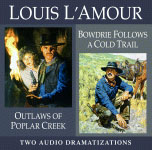 Outlaws of Poplar Creek & Bowdrie Follows a Cold Trail
Your Price: $14.99
Audio Drama
(Usually ships within 24 hours)
Dramatization
Two CDs, 2 hours
This collection includes:
Set in a tiny hollow, surrounded by the steep clifs of Lee's Canyon, Fosdick's Store is essential to the people of Poplar Creek. But Lately, it's getting to be more than Moby Fosdick can do to run the place, raise his kids and stay on the right side of the wild Tucker gang who hide out in the hills above the canyon.
Few travelers happen by Lee's Canyon. But when Texas Ranger Chick Bowdrie suddenly appears at Fosdick's door looking for Shad Tucker, slowly brewing trouble begins boiling over fast.
Bowdrie Follows a Cold Trail


Reviews
---