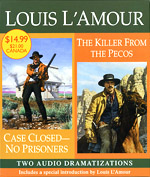 Case Closed & The Killer From The Pecos
Your Price: $14.99
Audio Drama
(Usually ships within 24 hours)
Dramatization
Two CDs, 2 hours
This collection includes:
Case Closed
Ride with legendary Texas Ranger Chick Bowdrie as he helps out a small town with a big problem. Someone has brutally murdered the local banker and made off with forty thousand dollars -- and it appears to be the work of someone who knows his way around town.
The Killer From the Pecos
Into this wild and bloody town rides Texas Ranger Chick Bowdrie, trailing a Pecos bank robber who left two men dead. All Bowdrie has to go on is an unconvincing eyewitness description, a name scrawled on a tattered post card...and his own skills as a master tracker. But it's his skill with a gun Bowdrie will need when he looks for answers in Almagre. For the town is gripped in a stranglehold by a ruthless cattle baron named Bonelli. To bring his quarry back, Bowdrie will pin on the marshal's star to face down Bonelli and his gunmen--in a town where a badge is a death warrant.

Reviews
---