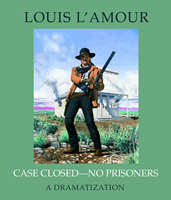 Case Closed - No Prisoners

Play Excerpt
Your Price: $7.50
Audio Drama
(Usually ships within 24 hours)

Louis L'Amour brings you the Wild West as you've never heard it before. Listen as he takes you back to the glory days of Texas after the Civil War. You'll learn what the Texas Rangers were really like and discover little-known facts about the dangerous outlaws they pursued.
Case Closed -- No Prisoners
Ride with legendary Texas Ranger Chick Bowdrie as he helps out a small town with a big problem. Someone has brutally murdered the local banker and made off with forty thousand dollars -- and it appears to be the work of someone who knows his way around town.
The Chick Bowdrie Series
This exclusive production of Case Closed -- No Prisoners features a full cast and authentic sound effects to bring you the full flavor of the Old West. Don't miss the other exciting dramatizations of Louis L'Amour's short stories!
Reviews
---